The UIDAI on Friday stated that a citizen can view their details of all updates made in Aadhaar card on uidai.gov.in. The service called 'Aadhaar Authentication History' helps a citizen to check at least past 6 months data for all the authentications carried. Aadhaar Authentication history service hosted on UIDAI Website provides details of authentication performed by the individual resident in past. These are such as Aadhaar-based biometric, OTP or demographic authentication for availing various services. UIDAI via its Twitter account has also given a tutorial, for better knowledge of this service. One can click on the URL https://resident.uidai.gov.in/notification-aadhaar for availing Aadhaar Authentication History service at UIDAI.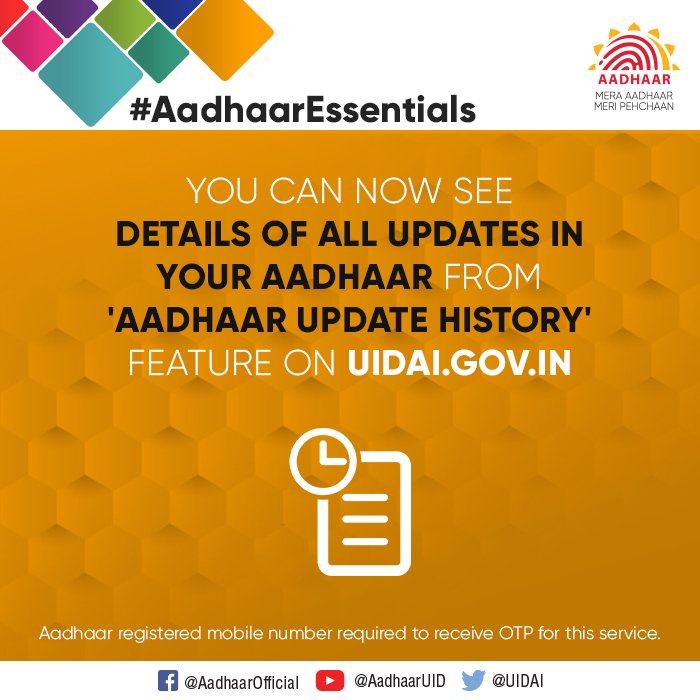 Here's how the procedure works, as per UIDAI.
Resident can check his/her Aadhaar Authentication history from UIDAI Websites by using his/her Aadhaar Number/VID and following the directions on the website.
However, it needs to be noted that, registered mobile number is mandatory to avail this service.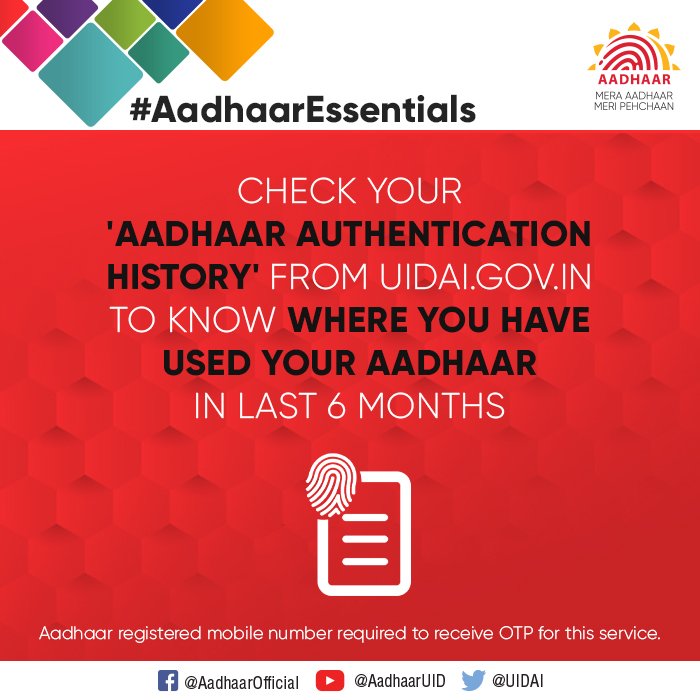 You can get the following information in Aadhaar Authentication history against every Authentication done by resident:
1. Auth Modality.
2. Date & Time of Authentication.
3. UIDAI Response code.
4. AUA Name
5. AUA Transaction ID (With Code)
6. Authentication Response (Success/Failure)
7. UIDAI Error code
 Aadhaar number holder can view details of all authentication records performed by any Authentication User Agency (AUA) or by him/her in the last 6 months. However, a maximum of 50 records can be viewed at one point of time.
Notably, for every authentication transaction performed by an Aadhaar number holder, UIDAI generates a unique code to identify the transactions and sends the same to Authentication User Agency (AUA) along with the response. This Response Code is helpful to uniquely identify the transaction by AUA as well as UIDAI and may be used for any further enquiry from AUA by the Aadhaar number holder.
If there is any failed authentication transaction record, specific error code assigned, then you can check the details of error code number against that failed authentication transaction to know the reason of failure.
There can be an occasion where the listed authentication transaction is not performed by the Aadhaar number holder. Here, the resident may contact the respective Authentication User Agency (AUA) for further details.
Source:- zeebiz